Over the years hundreds of people have experienced and enjoyed our hunts. If you would like more information about a hunt call Fred (708) 532-4133. You can also check out the Virtual Trophy Room for tons of information and pictures of successful hunters.

If you would like more information or have a specific question about a hunt package or booking a hunt you can e-mail us and we will personally answer your questions. Email-us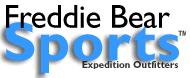 Visit freddiebearsports.com we are here to help you find the equipment you need for your next expedition.
Freddie Bear Sports
17250 S. Oak Park Ave.
Tinley Park, IL 60477.